By Supriya Krishnan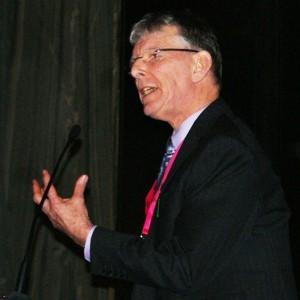 Professor Ronald M Harden, former Postgraduate Dean and Director of the Centre for Medical Education at the University of Dundee, Scotland, gave the key note presentation at the 2nd International Conference on Virtual Patients and MedBiquitous Annual Meeting.
"Medical education is going to be exciting, rewarding, achievable, but the degrees of effective failure in applying ICT to education must be questioned", he told the audience. "Does e-learning fit into the curriculum? What is the point of e Learning?" he asked.
Everyone needs to think differently about the future and e-learning must be questioned to see how we can successfully make the fundamental changes in education. "This is the major question facing us," Professor Harden said.
So what is the 'Intersection'? According to Professor Harden: "This is the meeting point of all the ideas and innovations form various education areas, from psychology, educational theory, learning technologies and instructional design."
In order to respond to the changes in medical education, Professor Harden outlined the required ACTION in learning:
Adaptive or personalized learning and assessment where the education is tailored to the needs of the student;
A Continuum of learning, from undergraduate, postgratuate to continuing professional development.
Technology in e-learning driven by pedagogy, not visa versa.
International programmes that recognize globalization in medicine;
Outcome based learning where the emphasis is switched from process to product; and
Networking or collaborative learning.
"E-learning technology can make a huge impact in continuum of education and we should focus a bit more onto learning outcomes and planned progression, curriculum mapping, learning resources, e-portfolios, and progress tests," he said, adding that: "Technology plays a major role in shaping future of medical education, and e-Learning can definitely be a part of the future of the new medical educator."