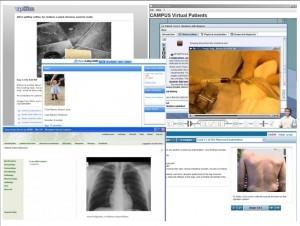 Throughout the eViP programme, eViP partners have been creating, repurposing and sharing VPs, using the Web-SP, OpenLabyrinth, CAMPUS and CASUS VP players. The majority of the VPs were used by pre-clinical and clinical undergraduate and postgraduate medical students and nursing students. Dentistry students and those undergoing Continuing Professional Development (CPD) also benefited from these resources.
The eViP partners were asked to provide feedback on their experiences, and to give advice for those wanting to use VPs for the first time.
"Use a system which is seen by staff as a reasonable and not an excessive time investment," says Terry Poulton from SGUL, London. "Target particular areas for VP production," he adds. "Single VPs dotted around the curriculum are interesting, they will have novelty value but they may have limited impact in the subject area." Inga Hege from LMU Munich, Germany, agrees. "The most important aspect is a good integration strategy when using VPs," she says.
Uno Fors and Nabil Zary from the Karolinska Institutet in Sweden say: "Adopt a student-centered approach, and when creating VPs seek best evidence in the published scientific literature."
Another important aspect is the involvement of teachers as early as possible in the authoring process. David Davies from The University of Warwick says: "A sense of shared ownership of VPs in particular, but e-learning in general, is vital to successfully embed new technologies in the curriculum."
Technical considerations are also important. What will work best for your institution? Andrzej Kononowicz from Jagiellonian University says: "Web-based VP systems are more practical and accessible than desktop applications."
Finally, make use of your students when introducing VPs into your schools! "It is worth asking students for help while preparing new cases," says Andrjez. "For instance, translations of cases from other systems may be done with good results by medical students in their final year. Although supervision by subject matter specialists is, of course, necessary," he adds.