About eViP
eViP stands for Electronic Virtual Patients. The aim of the eViP programme is to create a repository, or bank of 320 repurposed and enriched virtual patients (VPs), which will be made available under a Creative Commons License.
For more information about the eViP projust you can download the eViP Final PPT presentation from Year 1 (2007) here, and for further information about the availability of eViP VPs, please read our Report on the Management of Intellectual Property in Virtual Patients (downloadable PDF).
eViP explained!
In this short video Terry Poulton and Chara Balasubramanium from St George's University of London talk about the eViP programme.
Why use virtual patients?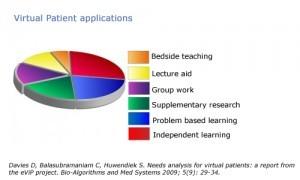 Virtual patients play a vital role in teaching medicine and other healthcare professions. Student-patient contact, which is at the heart of clinical competency, is declining in most member states.
Training is hampered by two important factors:
the healthcare budget constraints that increasingly limit clinical teaching; and
the reduction in the time that patients stay in hospital.
Electronic virtual patients (VPs) are now recognised by the medical education community as very effective tool for developing clinical reasoning.
A recent eViP survey showed that 55% of respondents use their own virtual patients, with the majority being used for independent, and problem-based learning.
Re-use and recycle!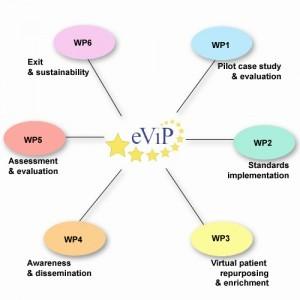 VPs are time-consuming and expensive to produce from 'scratch', and even leading e-learning institutions cannot produce a sufficient number to give full coverage of the medical or healthcare curricula.
To address this issue, eViP is a 3-year programme co-funded by the European Union and partner institutions to create a bank of repurposed and enriched multicultural virtual patient cases from across Europe.
The programme officially started in September 2007 and is due to finish in September 2010.
There are six individual eViP projects that take place beneath the eViP 'umbrella', with each project being led by an institution but with input from all eViP partners.
Click on the different sections of the eViP Programme Diagram for more information about the projects.