eVip reports from the International Association for Medical Education (AMEE) 2009 held in Malaga, Spain.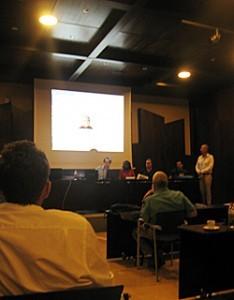 Members of eViP and MedBiquitous held a pre-conference workshop at AMEE 2009 in Malaga, Spain, for delegates to get to grips with different virtual patient systems.
These systems included Web-SP, vpSim, CAMPUS Virtual Patient, and CASUS. Here, attendees were given the opportunity for first-hand experience of a range of VP systems, and to create a virtual patient case and present their VPs to the attendees for feedback.
Attendees who created a patient case in Web-SP reported that they could insert questions regarding the patient's background, history and symptoms. They then added multi media and additional functions – for example users could click on an image of a patient's body area to display a detailed photograph of the injury. Users could also analyse data from various lab results, radiology and CT scans.
Users working with the vpSim system developed branched patient cases, which provided various options in response to the information given. This system shows the user the consequences of their decisions, and explains those consequences.
Those working with the CASUS system took a different approach, by modifying an existing example and using their time to explore the functionality of the tool. They described using a variety of questioning styles, embedded images, and highlighted the system's ability to put together a hypothesis based on different symptoms. They also noted the ability to add various multi-media in order to enhance the VP.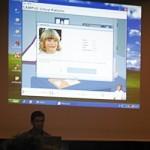 Those working with CAMPUS found the VP player "visually interesting," whilst those on Web-SP found the system "slightly difficult to navigate," in that they knew the questions they wanted to ask, but not how to ask them. However, they appreciated the final evaluation section, saying: "it was a really nice way of allowing the facilitator to inspect how the student had performed."
It was clear that VP systems had come a long way in recent years moving from technical systems that required a programmer to input content, into systems that were now more user-friendly allowing non-technical authors. However it was also noted that facilitators familiar with each system are still required to work alongside subject experts.
The final Q&A session at the end of the workshop produced some valid questions, and left us with much food for thought. Would the attendees use virtual patients in their curriculum? How accessible are the VP systems, and what is the value of branched cases? Especially as creating them from scratch can be time consuming.
With regard to branched cases, one issue that arose was the need to identify the learning objectives before building the virtual patient. For example five learning objectives in the virtual patient case will need five major choices within the case. As on attendee said: "You really need to know what the purpose of the virtual patient is before you start."
Overall, most attendees were positive about Virtual Patients. One attendee stated that: "During the workshop we had a lot of help, but being a total luddite at the start of the session to seeing how everything was laid out has been a real benefit of the workshop."