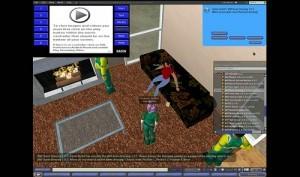 St George's University of London e-Learning Unit has won the Times Higher Education award for Outstanding ICT Initiative of the Year 2009. The award was given their use of Second Life to help train paramedic students.
Emily Conradi is the e-Projects Manager at SGUL e-Learning Unit. As she says: "Paramedic students spend a lot of time in work placements, which can be anywhere in the country, so it can be hard for the students to meet face-to-face with each other and with their tutors.
"The advantage of Second Life is that it feels more real. Students get a sense of being there together and can decide what to do from what they can see in front of them."
Award judge David Baker, deputy chair of the Joint Information Systems Committee said that this approach is "an imaginative use of Second Life and very important for the subject field."
Listen to eViP talk with Emily Conradi and Terry Poulton about their award here.